CAVAVIN continues its dynamic of opening in 2020!
Back to all news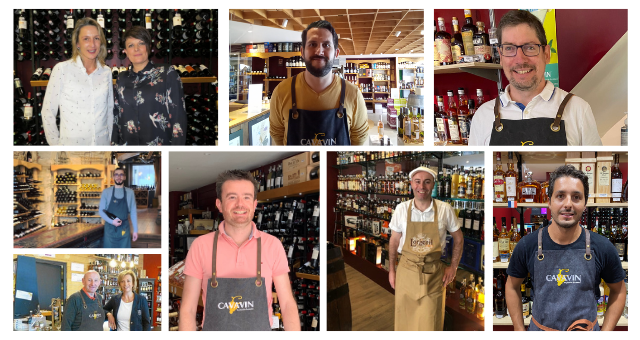 In the complicated context of 2020, CAVAVIN has managed to pull through and continues to open cellars all over France with 6 openings and 3 shop takeovers.
Here is an overview of the deployment of the CAVAVIN franchise during this very special year:
Sandrine Bughin and Olivia Fouchet opened in Soissons (02) at the beginning of January 2020 in the heart of the town centre, with the aim of bringing about a revival in the Soissonnais area, betting on proximity to offer convenience to the town centre inhabitants.
Romain Guillemier took over the CAVAVIN located in the 5th arrondissement of Lyon (69) in the Saint Georges district in March 2020. After a career as an employee at an independent wine merchant, Romain Guillemier wanted to take off by taking over the Lyon Saint Georges winery.
In early March 2020, Guillaume Courtet opened his CAVAVIN cellar in the centre of the seaside resort and port city of Arcachon (33). This former head of training for a restaurant franchise has opted for this professional reconversion with the desire to share his passion and to create a place of exchange around wine.
Pascal and Maryse Le Bot took over the CAVAVIN shop in Muzillac (56) at the beginning of April. These former butchers/butchers have gastronomy at heart and are determined to continue their local reputation through the world of wine.
Cyril Fourrier opened the doors of his cellar at the end of May 2020 in the heart of Bréval (78). Passionate about the world of wine and epicurean at heart, he decided to become a CAVAVIN franchisee after falling in love with the CAVAVIN cellar of one of his friends in Vernon (27).
Mathieu Huby took over the CAVAVIN located in Ploemeur (56) in June 2020. After a successful career in the gastronomic restaurant business, it was quite natural for him to turn to the profession of franchised wine merchant in his home town.
Ambroise Dieterle opened his cellar in the capital of the Périgord, Sarlat (24) at the end of July! This gastronomic town now welcomes a CAVAVIN wine merchant in the heart of the city. This is an opportunity for him to share his passion with both tourist and local customers in a region renowned for its terroir and exceptional dishes.
Joris Fistolet opened in mid-September the 4th CAVAVIN cellar in the French gastronomic capital, Lyon (69). It is in the 6th arrondissement, Cours Vitton, that Joris Fistolet has put down his bottles in order to share his knowledge and advice.
A new opening in Paris (75), in the 17th arrondissement, rue Poncelet, is planned for October. CAVAVIN intends to increase its presence in the Paris region with this new integrated shop.
Numerous opening and takeover projects are underway over the next few months in France and abroad: Opening in Glasgow in Scotland, takeover of Aubagne (13), opening in Clermont Ferrand (63), Tourcoing (59), Paris 1er (75), Amiens (80), Toulon (83), Aix les Bains (73).                                                                                                                                     In addition, the franchisees of Fontenay le Comte (85) and Arnage (72) have moved to welcome their customers in even better conditions with larger cellars.
Our stores have demonstrated their resilience during and after confinement with an average of 20% additional sales over the 4 months from June to September 2020. 
Rejoignez l'univers cavavin