Interview with our franchisee buyers
Back to all news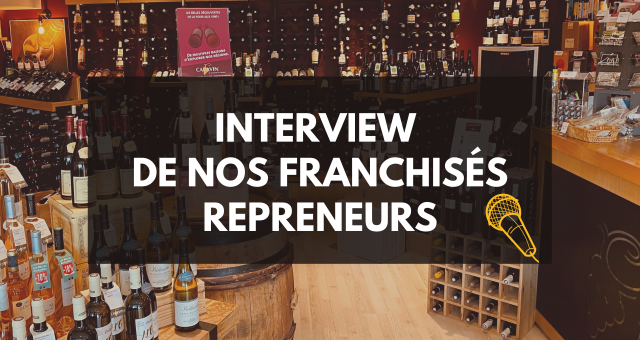 CAVAVIN offers its future franchisees the opportunity to take over a shop. Shop takeover allows future franchisees to set up directly in an existing shop with a loyal customer base.
But then, how did its new franchisees find their place as new managers and how did they develop their CAVAVIN?
Today, we meet Mathieu Huby and Thierry Derruaz.
A CAVAVIN Ploemeur franchisee, Mathieu Huby is a former manager of a restaurant in the town of Ploemeur. He knows his commune well and continues to bring it to life through a new activity, that of wine merchant.

Thierry Derruaz, a CAVAVIN Craponne franchisee, is a former managing director of the family business which manufactures and renovates swimming pool covers. The job of wine merchant is therefore a brand new challenge that Thierry wants to take up.

Interview with Mathieu Huby and Thierry Derruaz on their career path and their change of life as a wine merchant
What made you decide to take over the cellar?
Mathieu Huby : "I have always been passionate about wine. During my cooking studies and then my positions as chef de rang and maître d'hôtel, I felt that it was a domain that particularly attracted me. I always liked to find the best match between food and wine.
I arrived at a time in my life when I needed change and responsibility. When the opportunity presented itself for me to take over from the manager of CAVAVIN Ploemeur, I didn't hesitate."
Thierry Derruaz :  " The location in a commercial area at the entrance to a dynamic and attractive town, the possibility of parking for customers, the potential for development by offering new services and the choice to keep the CAVAVIN brand, which provides a wide choice of supplies, and a strong marketing force, allowing the company to focus on trade were the criteria for the decisions.
The entry fee and annual royalties remain consistent and measured for this sector, while leaving some freedom for purchases other than through the CAVAVIN purchasing platform. "
How did you reconcile what was in place with your predecessor and what you brought?
Mathieu Huby : " My predecessor accompanied me for a month. He trained me in products and cellar management. After he left, I decided to modernise some things while keeping the spirit of the cellar. In particular, I worked on communication and social networks. But also on management tools. "
Thierry Derruaz : " The changes were made little by little, as the winery benefited from a loyal clientele; there was no need to disorientate it.
My priority was to offer a larger offer to customers by increasing the number of references, therefore to have a larger stock and to make this known. "
What are your satisfactions in this new job?
Matthieu Huby : " In my previous jobs, I always liked the contact with the customers I find in this new job. Advising, accompanying, helping people discover. I also enjoy learning and training in oenology, wine is an atypical and fascinating product. I also appreciate the hours, which are more suited to family life than those of the restaurant business! "
Thierry Derruaz : " What I like most about this new job is that I can continue to do business as I did before, while enjoying the passion I have for the wine industry. To sum up, I like everything that revolves around the world of wine: walking through the vineyards in search of new vintages, getting to know the producers, the estates, the grape varieties, documenting myself...; which allows me to better showcase the products and therefore sell them better. "
How do you see yourself as a local shopkeeper? How satisfied are you with advising customers?
Mathieu Huby : " Ploemeur is my city of heart, I was born there and I studied there. Today I am proud to be one of the merchants working for its economic development. I enjoy meeting and advising my customers, who are often loyal. In the special period we experienced in 2020 and that we are still experiencing today, we have come to realise the importance of the role of local shops. "
Thierry Derruaz : " I have to offer real advice, propose quality wines for all budgets and know how to stand out from the competition. I am the link between the winegrowers, producers and distributors of wines and spirits and the end customer.
The important thing is to know how to listen, to make the customer talk in order to serve him better. This requires a real relationship of proximity. The customer ends up confiding in himself, his family, his tastes and his desires. "
Do you have initiatives with other traders or with the city?
Mathieu Huby : " I have joined the Ploemeur retailers' association and the loyalty card is a win-win situation for me. "
Thierry Derruaz : " With the pandemic and the change at the head of the municipality this year, we need to rebuild things and create new synergies. This is the objective of this new year. "
What advice would you give to someone who would like to do the same?
Thierry Derruaz : " I appreciate my retraining very much and I don't regret having taken the step.
Of course, you have to be motivated, not count your hours, and have enough cash to get started.
But taking over an existing wine cellar has proved to be the right option so that you don't have to start from scratch. I took over the former owner's business, i.e. his clientele and his contacts with suppliers; a real + for my start, which took place at the beginning of December, the strongest period in this activity.
The support of CAVAVIN, the support of my seller and two other CAVAVIN wine merchants in my region were essential factors in my success. "
Mathieu Huby : " Go for it! It's an adventure with its difficulties of course but very rewarding! "
Rejoignez l'univers cavavin