Interview of Patrick Malval, CAVAVIN franchisee in Aubière (63) France
Back to all news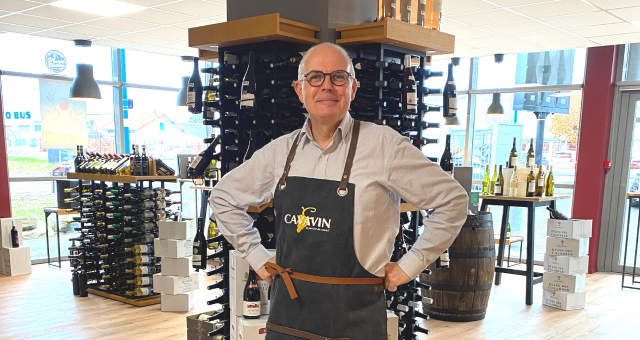 Patrick Malval opened his CAVAVIN wine shop in Aubière near Clermont-Ferrand in the Puy de Dôme (63) in November 2020.  Meeting with this former executive in the air transport industry who explains his career path and his reconversion...
You have an original background as a franchisee can you tell us where you come from and what led you to become a franchisee?
I had a great career as an executive in the airline industry, and I spent almost 30 years in the clouds with passion. I had one frustration: not having experienced the thrill of being an entrepreneur, taking all the risks, and being alone with myself...
How and why did you choose CAVAVIN?
After planes, my second passion is wine. A world of perpetual discovery, which forces humility. After the age of fifty, being an entrepreneur in the world of wine has become a matter of course. I took my time: 15 months between the decision to launch myself and the opening day. CAVAVIN became an obvious choice: a great brand, an experienced family group with real values, a healthy financial situation, impeccable logistics, visibly happy franchisees...
     How was your experience?
A first contact at the franchise exhibition in Lyon, a committed development director, who took all the time necessary to answer my questions, always available to come and visit the locations I was looking for, and who was able to give me good advice. I already had the impression that I was part of the network.
   What do you retain from the franchisor's contribution?
Throughout my career in aviation, I have been fortunate to be surrounded by fantastic people who have helped and supported me in the various challenges I have had to face. With CAVAVIN, this has continued: a close-knit team, with a good mix of very experienced colleagues and younger ones who bring a lot of energy to the network. A small group where people work hard and with passion. Everything I love!
 How would you qualify the franchisor-franchisee relationship?

At CAVAVIN, we work in a great win-win relation, with kindness, pragmatism and a real team spirit!
How do you see your job in the next few months?

It won't be easy. Starting from nothing, at the bottom of the ladder and in full confinement is a real slap in the face when you have known the "gildings" of the big groups. You have to be good in doing everything from A to Z, and work extremely hard in a disrupted economic environment. My respect for entrepreneurs, shop managers and winegrowers has grown a lot in recent months. But what a joy to win a new client, when he comes back to tell us that he has enjoyed the wine I recommended, and that he is asking for more!
What advice would you give to someone who is questioning franchising?

I waited until I was in my fifties to become an entrepreneur. If you want to get started, don't wait: take your time to choose the sector and the franchisor that will suit you best. That's really the key! And as soon as you're certain, go for it! The current period is complicated, but it's also a source of opportunities. With the right franchisor, you'll be able to move quickly!
Do you have an anecdote?

I found an ideal premium location for my first shop. But it was too big, too expensive, unsuitable, with several competitors all around. Convincing the owner of the building to cut the premises in half and undertake some rather pharaonic work, convincing the bankers of the interest of the project and opening in full confinement seemed (rightly) to be a real challenge for a few people...  And yet, here we are, and the first results are very encouraging.
I've learned that you have to take your time, but when the vision is there, you have to go for it. As Napoleon said, impossible is really not French!
Would you like to open a CAVAVIN? Don't hesitate to contact our development department: c.david@witradis.com 
Rejoignez l'univers cavavin